BACK BY POPULAR DEMAND
NATIONAL HONOR CHOIR
VOCAL COMPETITION WINNERS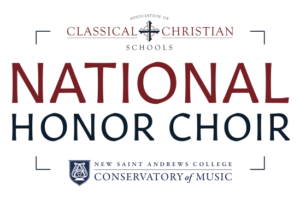 THE NATIONAL HONOR CHOIR
is a select group of vocalists gathered by audition to perform at Repairing the Ruins. They are ACCS students who come for training by some of the best of musicians in our movement, for fellowship with other students, and for the culmination of their work in a concert presented at the conference.
ACCS National Honor Choir
---
Thursday, June 22, 2023
7:30 – 8:30PM, Grand Ballroom
Presented by New Saint Andrews College and the ACCS.