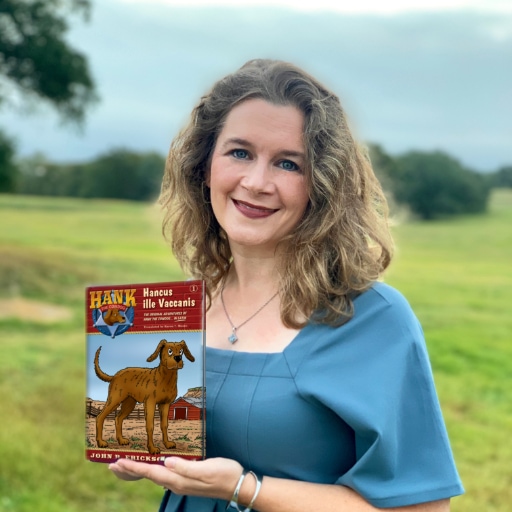 Karen T. Moore is the classical chair at Grace Academy of Georgetown, nestled deep in the heart of Texas. Karen has taught Latin for more than twenty years in a variety of settings. She currently teaches classical language and ancient humanities at Grace Academy, where she built the third through twelfth grade classical language program. She is also the director for Grace Academy's senior tour of Italy, guiding students through the wonders of Rome, Naples, and Florence. Karen is the co-author of the Libellus de Historia and Latin Alive series, including the Latin Alive Reader: Literature from Cicero to Newton, published by Classical Academic Press. Most recently she has published Hancus ille Vaccanis, the Latin interpretation of The Original Adventures of Hank the Cowdog with Logos Press. Karen also serves as the vice-president of the ACCS Institute for Classical Languages and the project manager for the CLT-Latin Proficiency Exam. She holds a BA in classics from the University of Texas at Austin and is currently pursuing an MSc in classical art and archaeology with the University of Edinburgh. She and her husband, Bryan, are the proud parents of three Grace Academy alumni. When not engaged in classical literature, Karen can be found in her garden, hiking with her family, or exploring Italy with her students.
---
---
Main Conference Workshop:
Learning Latin with Hank the Cowdog and other Latin Novellas
Thursday, June 17 10:50 AM (CDT)
Often the best way to embrace a language is through the wonder of stories. The framework and context of a well-wrought story can serve as a gentle guide towards understanding how words and grammar come together to create a good narrative, while at the same time engaging student interest on a deeper level than the typical grammar translation exercises. Such lessons also further proficiency in reading comprehension and oral language skills. This seminar will look at lesson plans involving stories for beginner, intermediate, and advanced readers alike. Each one is designed to further students' grasp of vocabulary and syntax through the joy of reading. Such reading should not be confined to the classroom, but can be an excellent tool for enrichment at home. Both teachers and parents of Latin students are encouraged to attend.