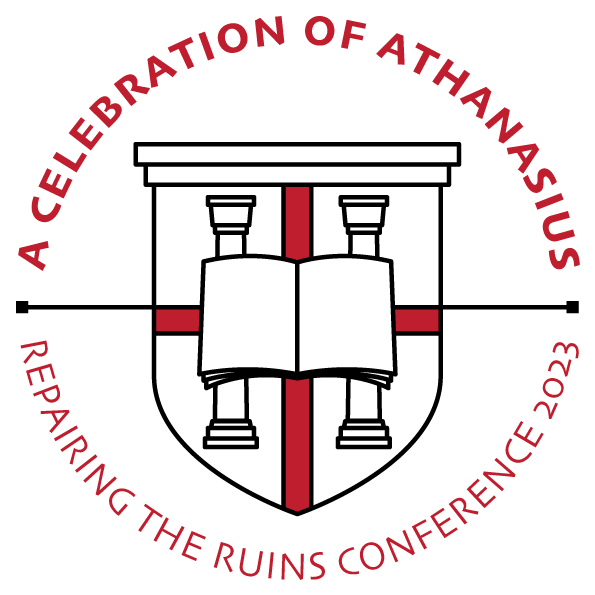 Join us in a
Celebration of Athanasius
Christians, instead of arming themselves with swords,
extend their hands in prayer.
---
The Holy and Inspired Scriptures are sufficient of themselves for the preaching of the Truth.
---
If the world is against the truth, then I am against the world.
– Athanasius of Alexandria
Singing Psalms Into the Mirror: Athanasius on the Psalms
Many of us know Athanasius as the inexorable saint who defended the Incarnation, refuting objections of both from the Jews and the Gentiles and thereby providing one of the most formative understandings of what it means to be human. He lived during the turbulent time of the 4th century, while the theological dust was still settling from the eccumenical Council of Nicea. He also wrote on the doctrine of the Holy Spirit and produced a biography of St. Antony, without which we might not have the likes of Augustine or Benedict. In his famous introduction to Athanasius' On the Incarnation, C. S. Lewis notes:
[Athanasius] stood for the Trinitarian doctrine, "whole and undefiled," when it looked as if all the civilised world was slipping back from Christianity into the religion of Arius—into one of those "sensible" synthetic religions which are so strongly recommended today and which, then as now, included among their devotees many highly cultivated clergymen. It is his glory that he did not move with the times; it is his reward that he now remains when those times, as all times do, have moved away.
Dead things go with the stream, as Chesterton observed, but only living things can go against it. Athanasius was indeed alive in faith and virtue, and he was formidable against the heresies of his time. That is why he earned the title, Contra Mundum.
But he was not just a fighter. Athanasius possessed a pastoral wisdom that equally complemented his fortitude to swim against the current of his day's zeitgeist. A work that illustrates this pastoral quality is a letter he penned to a young man named Marcellinus, who was ill and suffering at the time. Athanasius praises Marcellinus for not wasting "the leisure necessitated by [his] recent illness," that the young man was instead taking the occasion of his sickness "to study the whole body of the Holy Scriptures and especially the Psalms." Athanasius writes to him, explaining the right manner of reading Holy Scripture and directing his young friend about which psalm to sing (and pray) for which occasion.
How blessed was Marcellinus to have such a teacher! May we learn from him as well, and may we too stand contra mundum.
— Devin O'Donnell
From The Letter to Marcellinus
It seems to me, moreover, that because the Psalms thus serve him who sings them as a mirror, wherein he sees himself and his own soul, he cannot help but render them in such a manner that their words go home with equal force to those who hear him sing, and stir them also to a like reaction. Sometimes it is repentance that is generated in this way, as by the conscience-stirring words of Psalm 51; another time, hearing how God helps those who hope and trust in Him, the listener too rejoices and begins to render thanks, as though that gracious help already were his own. Psalm 3, to take another instance, a man will sing, bearing his own afflictions in his mind; Psalms 11 and 12 he will use as the expression of his own faith and prayer; and singing the 54th, the 56th, the 57th, and the 142nd, it is not as though someone else were being persecuted but out of his own experience that he renders praise to God. And every other Psalm is spoken and composed by the Spirit in the selfsame way: just as in a mirror, the movements of our own souls are reflected in them and the words are indeed our very own, given us to serve both as a reminder of our changes of condition and as a pattern and model for the amendment of our lives. . . .
Briefly, then, if indeed any more is needed to drive home the point, the whole divine Scripture is the teacher of virtue and true faith, but the Psalter gives a picture of the spiritual life. And, just as one who draws near to an earthly king observes the formalities in regard to dress and bearing and the correct forms of words lest, transgressing in these matters, he be deemed a boor, so he who seeks to live the good life and learn about the Savior's conduct in the body is by the reading of this holy book first put in mind of his own soul's condition and then supplied with fit words for a suppliant's use. For it is a feature of this book that the Psalms which compose it are of many different sorts. Some such as 73, 78, 114, and 115, are narrative in form; some are hortatory, like 32, 97, and 103; some are prophetic, for example, 22, 45, 47, and 110; some, in whole or part, are prayers to God, as are 6, 16, 54, 102; some are confessions, notably the 51st, some denounce the wicked, like 14; while yet others, such as 8, 98, 117, 125, and many more, voice thanksgiving, praise, and jubilation, Psalm 66 alone of these having special reference to the Resurrection of the Lord.
It is possible for us, therefore, to find in the Psalter not only the reflection of our own soul's state, together with precept and example for all possible conditions, but also a fit form of words wherewith to please the Lord on each of life's occasions, words both of repentance and of thankfulness, so that we fall not into sin; for it is not for our actions only that we must give account before the judge, but also for our every idle word.
Suppose that you want to declare anyone to be blessed; you find the way to do it in Psalm 1, and likewise in 32, 41, 112, 119, and 128. If you are persecuted by your own family and opposed by many, say Psalm 3; and when you would give thanks to God at your affliction's end, sing 4 and 75 and 116. When you see the wicked wanting to ensnare you and you wish your prayer to reach God's ears, then wake up early and sing 5; and if you feel yourself beneath the cloud of His displeasure, you can say 6 and 38. When you see the boundless pride of many, and evil passing great, so that among men (so it seems) no holy thing remains, take refuge with the Lord and say Psalm 12. And if this state of things be long drawn out, be not faint-hearted, as though God had forgotten you, but call upon Him with Psalm 27. Should you hear others blaspheme the providence of God, do not join with them in their profanity but intercede with God, using the 14th and the 53rd. And if, by way of contrast, you want to learn what sort of person is citizen of heaven's kingdom, then sing Psalm 15.
Another time, perhaps, you find you have been led astray by others' arguments—well, then, the moment you perceive it, stop your sinning, sit down and weep, as they did of old by Babylon's waters, using the words of Psalm 137. Since it is precisely by being tempted that one's worth is proved, Psalm 139 will meet your need when you thank God for testing safely past. And if the enemy once more gets hold of you and you desire to be free, then say 140. If through the weakness of your nature and the strain of life you find yourself at times downcast and poor, sing for your consolation Psalm 102, and use 103 and 104 to lift your heart in thankful praise to God, as in and through all circumstances we should always do. Psalms 105, 107, 113, 117, 135, and 146 to 150 not only show the reasons why God should be praised, but tell you how to do it. You feel that, like the Apostle, you can now press forward, forgetting all the things that lie behind? Then you have the fifteen Gradual Psalms (120-134)for every step of your advance.
For prayer and supplication, sing Psalms 5, 141 to 143, and 146. Has some Goliath risen up against the people and yourself? Fear not, but trust in God, as David did, and sing his words in Psalm 144. Then, marveling at God's kindnesses to everyone and mindful of His goodness to yourself and all, praise Him, again in David's words, with Psalm 105. For Psalms in praise of God, you have all these, 105 to 107, 111 to 118, 135, 136, 146, 147, 148, 149, and 150.
If you want to sing Psalms that speak especially about the Savior, you will find something in almost all of them; but 45 and 110 to relate particularly to His Divine Begetting from the Father and His coming in the flesh, while 22 and 69 foretell the holy cross, the grievous plots He bore and how great things He suffered for our sakes. The 3rd and 109th also display the snares and malice of the Jews and how Iscariot betrayed Him; 21, 50, and 72 all set Him forth as judge and foretell His Second Coming in the flesh to us; they also show the Gentiles' call. The 16th shows His resurrection from the dead, in flesh, the 24th and 47th His ascension into heaven. And in the four Psalms 93, 96, 98, and 99, all the benefits deriving to us from the Savior's Passion are set forth together.
Let each select from the Psalter, as from the fruits of a garden, those things of which he sees himself in need. In the words of this book all human life is covered, with all its states and thoughts, and that nothing further can be found in man. For no matter what you seek, whether it be repentance and confession, or help in trouble and temptation or under persecution, whether you have been set free from plots and snares or, on the contrary, are sad for any reason, or whether, seeing yourself progressing and your enemy cast down, you want to praise and thank and bless the Lord, each of these things the Divine Psalms show you how to do, and in every case the words you want are written down for you, and you can say them as your own.
---
1 Anonymous (tr.). Letter to Marcellinus on the Interpretation of the Psalms. In: Anonymous (tr.), Athanasius: On the Incarnation. St. Vladimir's Seminary Press, 1998. (Appendix; pp. 97−119; 'Letter' orig. publ. 1953). Accessed Jan. 26, 2023: https://mcusercontent.com/6def1bb7c65d07cd5bcbd6cc2/files/f65febb0-f084-3db8-562d-c1d3a398ea01/The_Letter_of_Athanasius_to_Marcellinus_on_the_Interpretation_of_the_Psalms.pdf